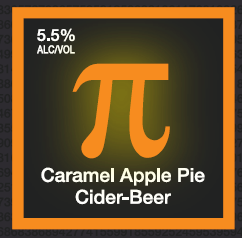 Madison, WI: Caramel Apple Pie Beer Coming Soon To Delta Beer Lab
In the middle of January 2022 Delta Beer Lab will be releasing it's newest brew known simply as ?. Pronounced Pi, this release is described as a Caramel Apple Pie Cider/Beer hybrid made from half barley and half apple cider. This new brew is fermented with Ale and Wine yeast simultaneously.
This unique beer is brewed using three different types of caramel. Head Brewer Pio (Tim Piotrowski) uses as much caramel malt as possible with just a small amount of base malt to provide the enzymes necessary for sugar extraction.
The finished product finishes semi-sweet after being back-sweetened with cider. See attachment for label design.
Vital Stats:
30 barrel batch
5.5% ABV
15 IBU
12-15 SRM

...more